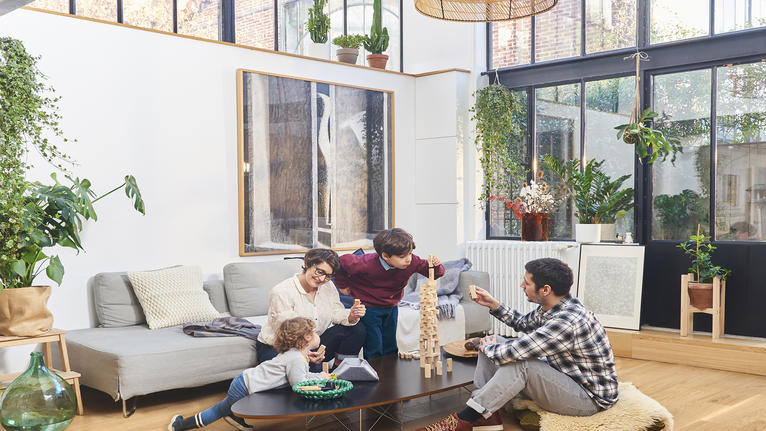 The Green Factory, a family house with an industrial twist
Invite nature into a renovated industrial space and create a modern, authentic environment that will ensure an easy, functional and convivial lifestyle.
You are looking for an open, flexible house without doors or walls that adapts seamlessly to the different moments of your family life and multiple activities. With your love for rustic home decor aesthetics and timeless values, your sensitivity softens the factory style. You are an avid recycler and you enjoy renovating found objects as part of your commitment to the environment. You pass your ecological values on to your children. You make the most of a large living family space whose wide windows open onto the outdoors, where you can contemplate nature and the changing seasons.
Green up your interior
Beyond their aesthetic appeal, plants provide health benefits by purifying our homes and helping us reconnect with nature. An accumulation of hanging plants will create an urban jungle atmosphere; and recycled everyday objects (tin cans, wooden crates, etc) can replace traditional clay pots. Creative ideas for a family workshop! These green touches brighten up the black and white aesthetic of the industrial style with a dose of colour to create the perfect rustic home decor.
Dare graphic contrasts
Warm up the industrial home decor style with a number of natural elements. Steel, cast-iron and brushed metal coexist with raw wooden floors and botanical decoration.

Add a touch of contrast with a slate blue wall instead of a headboard; a dark tone reminiscent of metallic industrial finishings. A bed linen set in leafy camouflage and chambray is a nuanced decorative suggestion. This graphic bedroom inspired by workshops is relaxed and serene thanks to rustic details perfectly in line with this style.
Play with functionality
Clever, modular furniture and sturdy, authentic materials create a durable, timeless style perfect for large family lunches. Your space shifts to fit the occasion and the number of guests, because conviviality is one of your most treasured values. You love old craft tables and collective furniture that you buy second hand. The metallic beams are exposed because to you they have aesthetic value and make your house unique.