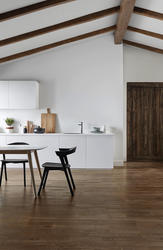 Key features
Soft and natural colours
Sustainably sourced and produced
Long-lasting stability
Reflecting the rich variety of colour found in nature's unspoilt landscapes, Shade engineered wood flooring collection brings together a host of carefully chosen nuances to transform your interior decor. The different designs will amplify the room's ambience in more ways than you can imagine, whether you prefer bold or subtle textures, dark or light tones.
Shade is versatile and stylish enough to create the look you want without compromising on quality or durability.
Our Parquet Magazine is available to present our trendy offer, and our Grading Book will provide a focus on the design.
Technical and environmental specifications