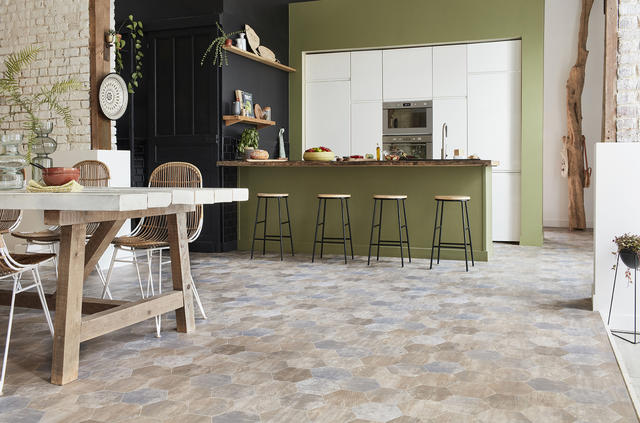 Vinyl floors in the kitchen and bathroom
Whether you're single or a family of six, the kitchen and bathroom are often two of the busiest rooms in the home. They're also the two rooms where moisture is ever-present.
In a kitchen, with steam, splashes and spills from cooking and washing up, floorings that are both water-resistant, stain-resistant, and easy to clean and maintain will be key section criteria. And in a bathroom with steamy showers, splashes during bath time and damp towels, one of the main requirements is a floor that can withstand humidity. Slip resistance and comfort underfoot are also important.
In both these cases, vinyl is the candidate of choice: water-resistant, very easy to clean, and comfortable and warm underfoot. It's also available with slip-resistant grip, making them ideal flooring solutions for kitchens and bathrooms. Available in many designs and colours, and styles ranging from contemporary to classic, vinyl flooring also gives you the freedom to create flooring perfectly matched to your tastes and home decor.
Vinyl flooring in the kitchen and bathroom: what is the best option?
Both LVT and vinyl roll are highly suitable flooring options for kitchens and bathrooms. Deciding between the two will often come down to personal preferences and budget.
Is LVT suitable for kitchens and bathrooms?
LVT is durable, moisture-resistant and easy to clean and maintain, making it an excellent flooring choice for kitchens and bathrooms.
At Tarkett, we combine the latest technologies to deliver an ultimate LVT flooring experience that's tough enough for even the busiest of kitchens and bathroom.
Our flexible and rigid LVT ranges are both constructed in layers to provide dimensional stability, ensuring exceptional durability and resistance. We also apply a PUR (reinforced polyurethane) treatment on all our vinyl flooring ranges, providing a water-resistant finish and ensuring extreme protection against scratches, wear and stains.
And thanks to the high definition decorative layer, which includes life-like embossing-in-register, you can get the look and feel of natural tile or wood flooring, without the premium flooring price tag. All our LVT products come with a 15-20 year warranty and are phthalate-free.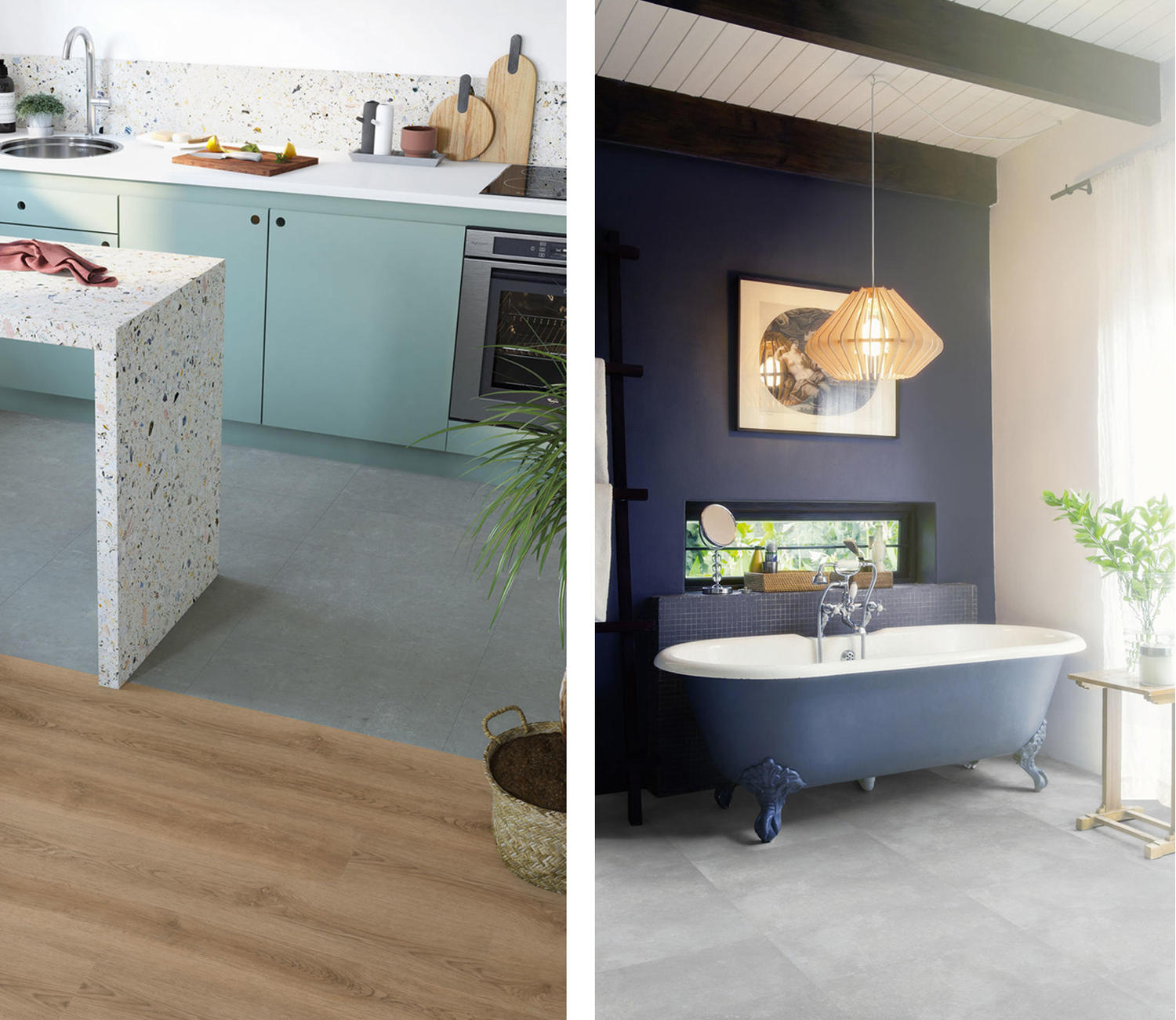 Is vinyl roll suitable for kitchens and bathrooms?
Like LVT, vinyl roll is durable, moisture-resistant, easy to clean and maintain, and therefore an excellent flooring choice for kitchens and bathrooms.

One of the distinctions between vinyl roll and LVT is that vinyl roll comes in sheets and there are usually very few, if any, seams when installed. This makes it a particularly good choice for areas subject to moisture, including the bathroom and kitchen.
 
Another distinction is the wider variety of design and colour choices available with vinyl roll. In addition to perfect reproductions of natural materials such as wood and stone, modern vinyl roll offers an extraordinary choice of designs, from brilliant colours to abstracts and black, greys and white. The options are limitless in terms of finding designs and styles to suit individual tastes and that are in line with today's kitchen and bathroom trends.
 
Vinyl roll's foam backing, which creates a warm surface, making it very comfortable underfoot, is also great in both kitchens and bedrooms. Cups and plates often won't easily break when dropped in busy kitchens, and feet will be greeted by a soft, warm surface when getting out of bed. Excellent heat insulation and slip resistance also make vinyl roll a perfect choice for the bathroom.
How do you lay vinyl flooring in a kitchen or bathroom?
How you install your kitchen vinyl flooring or bathroom vinyl flooring depends on the product you choose and on the manufacturer's recommended installation method. Tarkett has developed a full range of LVT and vinyl roll flooring that can be installed simply and swiftly.
Find out more about how to install your Tarkett LVT or vinyl roll floor.
Is vinyl water-resistant?
Vinyl flooring is a waterproof product; however, it's an indoor product and shouldn't be installed outdoors or inside showers! It's also important to note that while vinyl flooring products are waterproof, their installation is not. For instance, LVT comes in planks or tiles that sit side by side, resulting in multiple seams. So, while the planks and tiles themselves are waterproof, if they're not correctly installed, there's the possibility of water or moisture seeping through the seams. Vinyl roll, on the other hand, comes in sheets and there are usually very few, if any seams when installed. Vinyl roll is therefore recommended for bathrooms and kitchens.
How do you maintain vinyl floors in the kitchen and bathroom?
Whether you've got LVT or vinyl roll, cleaning and maintaining vinyl floors is simple, fast and easy. Keeping your bathrooms and kitchens hygienically clean is as simple as following a few basic steps. Find out more about how to clean and maintain your vinyl floors.