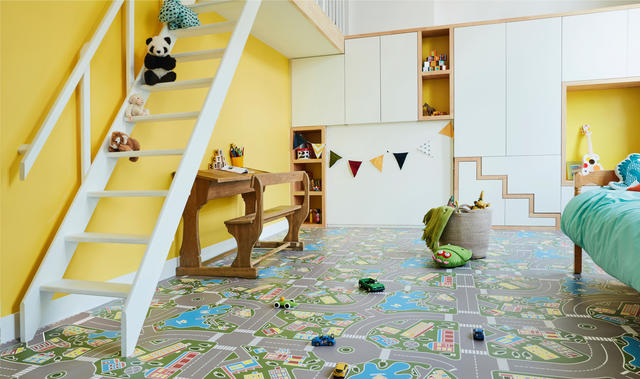 Flooring for children's bedrooms
As is the case for any bedroom, you have many options when choosing flooring for children's bedrooms. Carpet, hardwood floors, vinyl floors, laminate floors, and even cork floors are all possible options.

Whether you have toddlers or teenagers, flooring that is comfortable, durable, and easy to clean are the first things that come to mind when we think of flooring for our children's bedroom.

Younger children, up until around the age of 10, may spend a lot of time playing on their bedroom floor, and so warmth, softness and comfort are important selection criteria. And children of any age can be messy and less concerned with protecting flooring surfaces, so flooring that is durable and easy to clean is also worth investing in.

The key is to find a child-friendly floor that is durable enough to stand up to a bit rough treatment, but also soft enough to provide a safe landing in case of falls. How you or your child want the bedroom to look and feel also influences your choice of flooring. One thing to keep in mind is that children won't be children forever so you may want to consider choosing a floor that transitions nicely into a regular bedroom once the children move out or grow up.
What's the best flooring for a child's bedroom?
The best flooring for a child's bedroom is a floor that is both durable and comfortable. A floor that is comfortable for bare feet and, depending on the child's age, endless hours of crawling or playing on the floor. It should also be available in designs that help you create a space that's both functional and fun, and reflective of your child's personality and tastes.

Many types of flooring meet these criteria including wood, vinyl, laminate, and carpet. Each of these bedroom flooring options has its advantages and disadvantages in terms of comfort, durability and design options. For instance, in terms of comfort, carpet is one of the more popular choices for children's bedrooms. It provides a soft and warm surface for children to crawl and play on and provides a safe landing in case of trips or falls. Carpet also acts as a sound insulator, helping to reduce the noise generated from children running and playing in their rooms.

On the downside, carpet isn't easy to keep clean. Children can be messy, and after a few spills and stains, you may find your carpets looking less than fresh. Using carpet tiles could be an alternative here as it means that you can change individual tiles in the event of stains.

Wood floors, on the other hand, are easy to keep clean. They're also fairly durable. They will, however, sustain their fair share of scratches and dents over time when exposed to rougher treatment such as thrown toys or the storage of children's equipment such as bikes and scooters. But on the upside, you'll be able to sand the floors back and refinish them once the children grow up, restoring their original beauty.
Children's bedroom styles and inspiration
Children's bedrooms can be fun spaces to design and decorate. The style you choose will be influenced by your child's age and personality. However, since this varies significantly from nursery days to teenage years, you may want to consider a style that's flexible enough to grow with your child.

The first step to finding a flexible design that you can update and change as your child grows is to look at the whole room in context. Consider how furniture, rugs, curtains, wall decor, and different coloured walls look with different types of flooring. While it's not very practical to change the flooring of your kid's room as tastes and trends change, you can quite easily replace the rug or change the colour of the wall paint to update or change the style of the room.

Before planning your children's bedroom design, visit our editorial and design pages for inspiration . Here you'll find some great decorating and flooring ideas, as well as advice on how to choose paints, and how to find the best bedroom furniture and storage for your child's room.
Vinyl in children's bedrooms
Vinyl flooring ticks many boxes when it comes to flooring that stands up well to daily life with children. It's resistant to spills, stains, scratches and dents, and very easy to clean and maintain. Also, if your vinyl flooring is backed with foam and has a cushioned, flexible surface, it will be warm and soft underfoot and provide good sound insulation.

Vinyl is also available in a wide variety of designs, colours, patterns, and styles, including graphic effects. This means that as well as being able to choose from a range of classic wood, stone or tile designs, you can choose and combination of fun, playful, or trendy designs for your child's bedroom floor.
Safe for children

There are often concerns about the safety of vinyl floors in children's bedrooms. Some lower-quality vinyl flooring does emit volatile organic chemicals (VOCs) for days or weeks after installation, which can lower the air quality in a child's bedroom. However, at Tarkett, we are focused on making flooring with low emissions to improve indoor air quality and ensure a safe indoor environment. Our new generation of vinyl floors are just one of our flooring ranges with emissions 10-100 times lower than the most stringent regulations. Also, all of our vinyl rolls and luxury vinyl tile (LVT) products are 100% phthalate-free.
Wood in children's bedrooms
Next to carpet, wood flooring is a popular choice for children's bedrooms. In terms of warmth and softness underfoot, carpet is an obvious choice. However, they're not very practical when it comes to keeping them clean. Wood floors, on the other hand, are easy to keep clean with simple sweeping or wiping with a damp mop. This makes them particularly suited to children's rooms, which are likely to experience their fair share of spills and stains. They're also a good choice for children who suffer from dust allergies. And to add warmth and softness, you can incorporate area rugs. This also allows you to quickly and easily change the style of the room to suit the child's age and personality.

As well as spills and stains, children's floors are likely to endure scratches and dents from the day-to-day activities of children. It will, therefore, be important to ensure your wood floors have a durable finish to withstand the rougher treatment. At Tarkett, most of our wooden floors are treated with Proteco, one of the strongest surface protections on the market. Proteco comes in three varieties, with each providing a different feeling to the floor and different finishes ranging from semi-gloss to matte.

Tough, practical and easy to clean, Tarkett wood floors are an excellent option for children's bedrooms. Browse our Viva collection, for instance, for contemporary wooden floors that are practical, durable, easy to install and to maintain, and attractive. Available in a range of classic oaks and walnuts, as well as a contemporary grey design, they're the perfect choice for kid's bedrooms.
Laminate in children's bedrooms
Laminate 's low maintenance and affordability make it a fairly attractive option for parents who are on a budget. Quick and easy to install as a DIY project, you can generally install a new floor in your children's bedroom in under a day. And, like vinyl floors, laminate is available in a range of designs and colours, and it can look almost identical to natural materials such as wood, ceramic tile and stone.

The only significant drawback of laminate floors is that they can be noisy, which can be problematic in a child's bedroom. Good quality underlayment can help to reduce some of the noise issues. Like wood floors, area rugs can also be used to add warmth and softness to your child's bedroom.