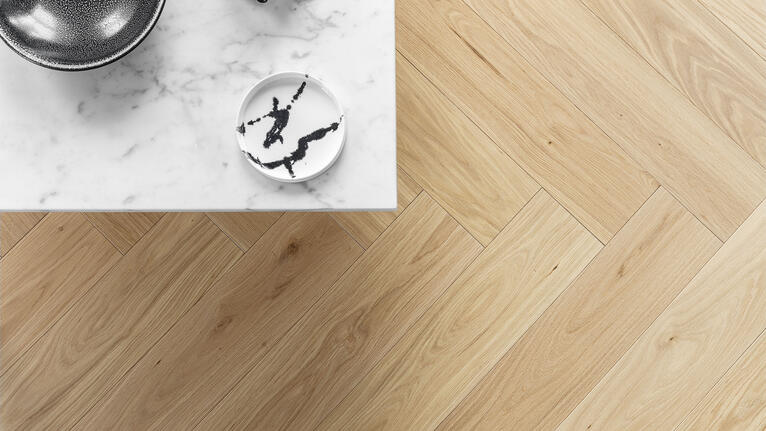 The colour and design of your hardwood floor can vary a lot between different wood species. It can range, for example, from light and calm birch through to dark and vibrant walnut. There are, however, many other factors besides the wood species that will affect the final design and colour of your wooden floor.
Wood patterns, surface effects, plank widths, colour variations within the boards, and the impact of exposure to sunlight can all dramatically change the final appearance of wooden floors.

To simplify the decision-making process, we have spent a lot of time developing a stylish collection of beautiful and high-quality wooden floors that incorporate the latest interior design and colour trends.
Offering both modern and traditional designs and a wide range of colour choices, finishes, and unique design features, our beautifully crafted wood flooring will bring style and elegance to all of your personal spaces.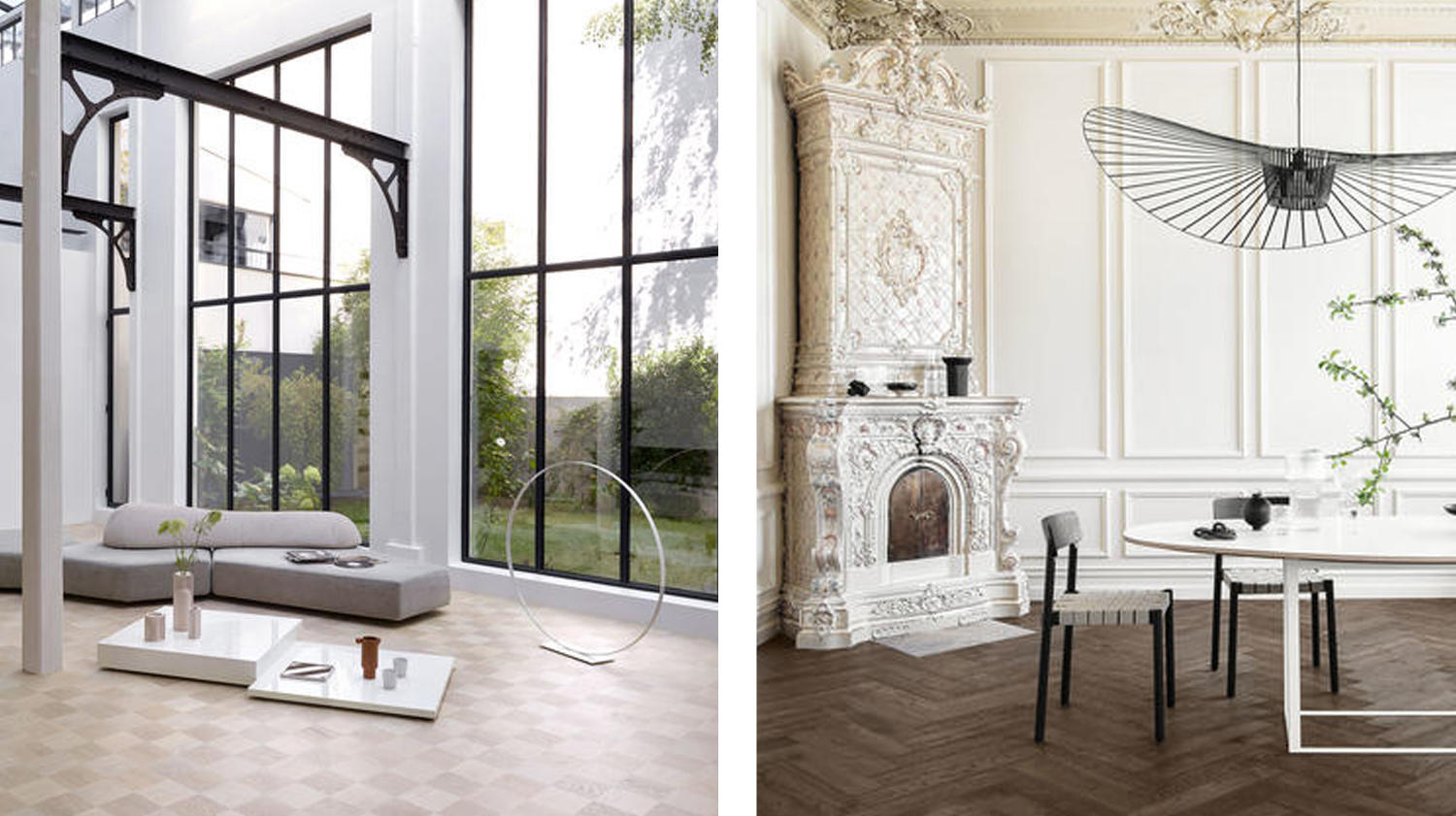 Wood floor design: directions, patterns and layout
Design-wise, there's more than one way to install your wooden flooring, and it often comes down to a matter of personal taste and style. However, the patterns, directions and layout of your wooden floor will influence the overall look of a room so it's important to understand some basic principles.
In terms of direction, the general rule is to follow the direction of the light. It's easier on the eye if the boards run in the same direction as the light. If the light falls in from several angles, the rule is to follow the longest wall.
Tarkett's modular flooring range allows you to create your own patterned floor layout. For instance, our Segno range gives you artistic license to create your own patterned floor layout, combining our exceptional quality and finishes with a modular technology that allows for an almost infinite range of unique pattern options. Whether you opt for a timeless herringbone pattern or create your own, Segno can take any space to its full potential.
Wood floor colour: dark or light
Choosing between darker or lighter floors is completely dependent on your specific style preference. There are, however, a few things you might want to consider, including your existing furniture and colour scheme, the amount of traffic through your home, whether you have kids or pets, the size of your rooms and the amount of natural light they receive.
Dark wooden floors are incredibly versatile. They are both dramatic and sophisticated and can bring richness and elegance to a space. When paired with the right wall colours and furnishings, they make a bold statement in a room.
Light wood flooring, on the other hand, may be more appropriate for more casual settings. They are also better at masking dents, scratches, and scuff marks, and tend to show less dirt and less pet hair compared to darker wood. This makes light floors great for high traffic areas, and for those looking for a simpler cleaning and maintenance routine. They are also a great way to brighten up and add space to a room.
Colours and shades within Tarkett's Wood Collections
Whether you're looking for popular shades of grey, white, black, or golden or natural shades of brown, in browsing our beautiful wood flooring collections, you'll find oak flooring options in a vast range of shades and colours.
Our Shade collection, for instance, offers a broad spectrum of wonderfully natural hues that will add character and warmth to your home, whatever your style. Reflecting the rich variety of colour found in real wood, Shade brings together a host of carefully chosen nuances to transform your interior design. The different designs will amplify the room's ambience in more ways than you can imagine, whether you prefer bold or subtle textures, dark or light tones. Shade is versatile and stylish enough to create the look you want without compromising on quality or durability.
Letting the wood's natural patterns and colours speak for itself, our Pure collection goes back to basics with a look that highlights the material's inner beauty. From the deep, lush hues of walnut to the gentle glow of birch, this collection draws together six separate species into a range of wonderfully natural flooring styles that will beautify your home. The wood's authentic appearance shines through as characteristic variations in the raw material create the design. Pure allows you to use the true look of real wood to set the tone of your decor.
Our Noble collection offers designs that reinterpret, using a contemporary modular technique, the long tradition of classic parquet flooring. With brushing and hard wax oil finish it creates a look that changes according to your position and perspective as the light falls in the room. The result is an exciting dynamic between the floor and its surroundings, for an effect that is both timeless and on trend. The extension is a tribute to classic floor constructions with elegant and more contemporary colour and brushing. Each squared lamella is applied by hand to Tarkett's engineered, layered construction. Alternating grain directions, small variations and designed misalignments give every board a flare of uniqueness and exclusivity typical of all handcrafted work. We call it "Perfect Imperfection".

We also offer a range of colour-coordinated accessories to make your newly installed floor even more beautiful, practical and durable. For instance, colour-matched reducers provide a transition between two wooden floors or with other flooring solutions like tiles or carpet, and colour-matched, seamless stair nosings create a modern look.
Wood floor paint
An alternative to a clear floor finish is a painted wooden floor. Painting your wooden floors introduces a whole new spectrum of colour options. It also allows you to express your creativity by adding design features and patterns to your floor.
Wood floor paint is also an option if you need to cover up cheap or low-quality wood. It's also a good way to reclaim old and worn floors. Rather than simply pulling them out and replacing them, it's worth considering a fresh coat of paint in a style that fits your house. Painting is an alternative to replacement that can extend the life of such floors for several years.
Wood floor finishes
When using your wooden floor, you primarily wear the surface treatment, not the wood itself. For this reason, wooden floors need good surface protection against wear, tear, scratches and stains if you want them to look good for a long time.
Most of our wooden floors are treated with Proteco, one of the strongest surface protections on the market. Proteco makes the floor strong while retaining the genuine wood feel and comes in three varieties, each providing a different finish ranging from semi-gloss to matte.
PROTECO LACQUER A semi-gloss lacquer that lasts long and add extra durability to your floors. Gives a traditional lacquered look and is the perfect choice for the active family needing a wooden floor that can more or less manage on its own.
PROTECO NATURA A matt option with high durability and effective protection. Comes in a number of colours that lifts and enhances the wood's natural abilities. Easy to care for, even if the matt surface demands a little more frequent maintenance than Proteco Lacquer.
PROTECO EXTRAMATT This protection will give you an extra matt, silky surface that imitates the feeling of an oiled or untreated floor, but with the durability of a lacquered floor. Needs minimal maintenance and is long-lasting. A perfect combination of natural appearance, heightened wood feel and effective protection.
PROTECO HARDWAX OIL Adds a soft and matt surface with a warm, natural feel. Increases the experience of authentic wooden floors and heightens the nuances of the wood. Hardwax oiled floors must be cared for regularly, but well taken care of, will age beautifully and naturally and last a very long time. The perfect choice when the wooden feel is what's most important.

Unfinished wood flooring
Tarkett do not sell unfinished wooden floors. All of our floors are pre-finished in a range of designs and styles. This enables us to ensure maximum surface performance and allows us to control both emissions levels and product design. As a result, our customers know exactly what the finished product will look and feel like, allowing them to better find the perfect floor to suit their home and lifestyle.