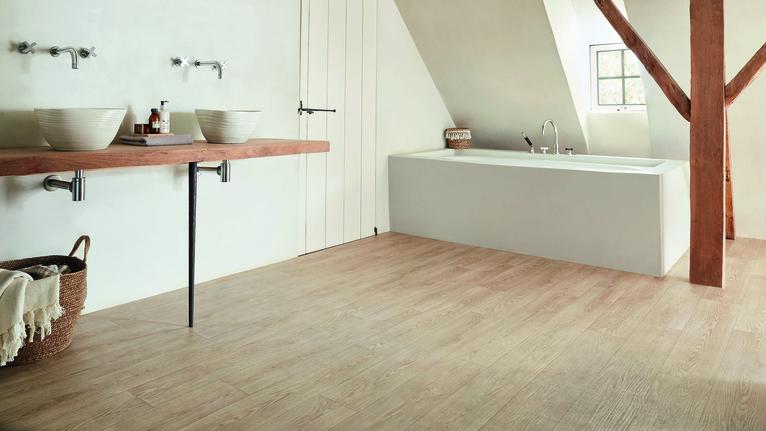 Wood flooring in the bathroom
Wood flooring in the bathroom
Water and humidity make the bathroom a challenging environment for wooden floors. Whilst engineered wood floors are suitable for most rooms in your home, they're not recommended for wet rooms, which include the bathroom, toilet and laundry.
A range of alternative flooring options are available that are better suited to water-heavy environments such as the bathroom. In addition to design choice, flooring that can handle moisture and humidity well, isn't slippery when wet, and that is easy to clean, will be key selection criteria.
Is it a good idea to have wood flooring in the bathroom?
No, despite engineered wood's properties and design, which enable it to better deal with changes in temperature, humidity and moisture, it's still not a good idea to have wood flooring in the bathroom.
Best flooring for the bathroom
If you're keen on wood flooring for the bathroom, but concerned about its ability to deal with high moisture levels, vinyl flooring is a great alternative.
Luxury vinyl flooring in particular, is a type of vinyl flooring that is designed to imitate natural flooring options such as hardwood. However, both luxury vinyl tile (LVT) and vinyl roll are excellent flooring choices for the bathroom. They're water-resistant, very easy to clean, and comfortable and warm underfoot. Some products are also available with slip-resistant grip, making them deal flooring solutions for bathrooms.