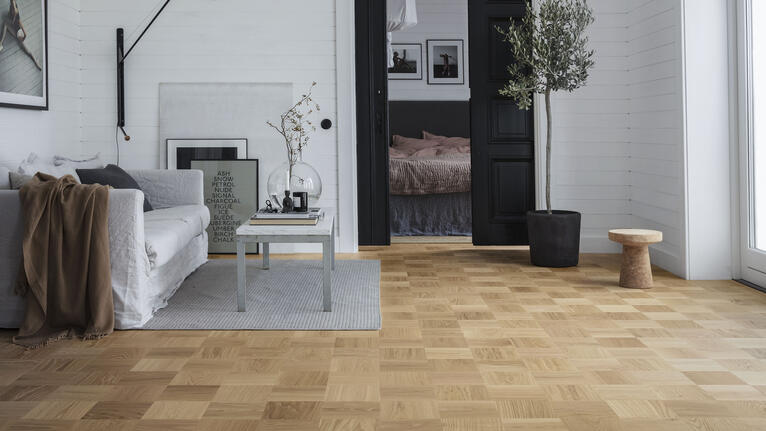 Bring the Natural beauty of Wood into your home
Wood floors are famous for their character and unmatched natural beauty that makes any décor unique, be it modern, classic or rustic chic. The unique craftsmanship that is required to make these floors adds singularity to any interior space. Our wood flooring collections were inspired by major decoration trends to match your style and create a one-of-a-kind interior. Whether you are looking for exclusivity, authenticity, a modern touch or the perfect wood flooring option for your family's new home, you will certainly find the right floor for your home in our selection.
Wood's Classic Elegance for Superb interiors
The only floor covering that never ever looked old-fashioned is wood. The first thing that comes to mind when thinking of wood floors is their timeless elegance. If that is what you are looking for in wood floors, you may appreciate our Pure collection, where you will find more regular wood floorings that celebrate nature's authentic designs with finishing touches to make every plank unique.
Rustic and time-worn floors have stories to tell
There is something very special about wood floors: the knots, dents and colour variations in the floor each tell a story. This gives your wood flooring an exclusive yet authentic look. If you are seeking to find a genuine-looking wood floor with a naturally aged look, explore our Prestige collection's planks with a weather-worn and tarnished look, as if the passing of time just made them more beautiful. Our Heritage collection is made of genuinely rustic oak, for those looking for an extra patina effect. The Heritage collection's rustic aspect makes it look as though the flooring were telling the story of past generations. 
Wood floors, when tradition and modernity blend
Choosing Wood floors can be considered a classic choice, yet these floors can also have a modern twist that mirrors current major trends and tastes and makes them ideal for sleek contemporary spaces, without any compromise on the unique craftsmanship and exclusivity that is innate to wood floors. Our Noble collections are a reinterpretation of classic parquet flooring: their modularity makes them look both chic and extremely contemporary. Our Shade collections are a good option for those looking for soothing designs and colours including grey floorings for cosy interior decorations.
The perfect renovation floor for the family
Thanks to their lower thickness, our Viva collections of contemporary wood floors are a practical and highly resistant option that will make the renovation process very straightforward, stand the test of time and be with you at all the important stages of life. Viva is the perfect solution for families with young children as well as students or young couples moving in to their first flat. Plus, the collection is large enough for you to find your style, from our classic oaks to our trendy new greys.