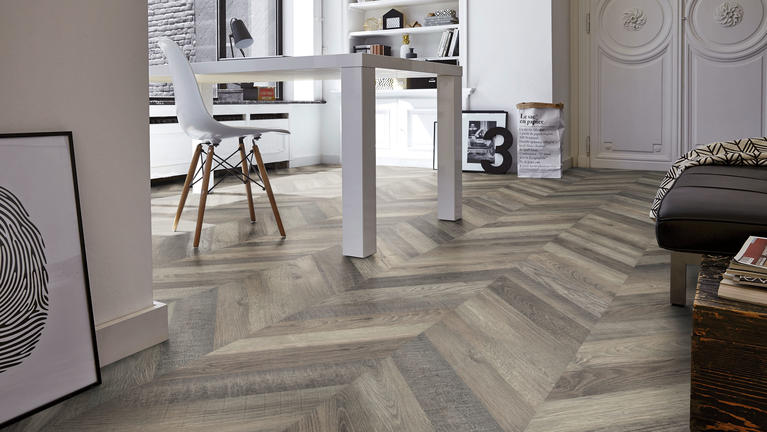 Choosing laminate floors for an entrance or hallway
Laminate flooring provides an attractive and affordable option for entrances and hallways, with the ability to recreate the look of wood, stone or tile at a cheaper price point. It has a treated, extra-strong overlay, which makes it highly scratch, stain and water-resistant. It's also easy to clean and maintain, and very easy to install.
Since entrances and hallways are high traffic areas, you'll need to choose a durable laminate with a thick wear layer. This will ensure that it can stand up to the challenges presented by entrances, such as dirty shoes, wet umbrellas, and muddy boots, without sustaining any significant damage.
Benefits of laminate flooring in entrances and hallways
Pros of using laminate flooring in your entrances and hallways
• Affordable
• Durable
• Easy to clean
• Easy to install
Affordable – Laminate flooring is relatively inexpensive when compared to natural stone, ceramic tile and hardwood flooring alternatives, and due to the printed design layer, you can get the look of these materials without the higher price tag.
Durable – Laminate has a treated, extra-strong top layer of laminate, which makes it highly water, scratch and stain-resistant. This durability makes it an excellent choice for areas with high foot traffic such as entrances. At Tarkett, we guarantee our laminate floors for 20-25-years depending on the product.
Easy to clean – Laminate has a smooth surface, which is easy to clean. Water, mud, scuffs and stains can all be easily cleaned using a damp mop with warm water and a mild cleaner or vinegar.
Easy to install – Laminate floors are quick and easy to install yourself, usually following a simple DIY click-and-lock or fold-and-lock installation system. Find out more about Tarkett laminate collections.
Drawbacks of laminate flooring in entrances and hallways
Cons of using laminate flooring in your entrances and hallways
• Susceptible to water damage
• Difficult to repair
Susceptible to water damage – Although the top layer of laminate provides good water resistance, you still need to take precautions to prevent potential water damage. Since laminate is a wood composite product, it is still susceptible to water damage if water seeps through the seams into the lower layers. If this happens, your laminate floors will potentially buckle, causing permanent and irreversible damage.
When choosing laminate floors for the entrance, you should choose a durable laminate that is highly water-resistant. You'll also need to ensure that seams are very tight between the planks during installation. This ensures that there are no gaps and prevent moisture penetrating the core of the laminate, which contains the wood composite materials. The joints in between the planks can also be sealed to make the laminate floors more watertight. It's important to remember that even good quality, water-resistant laminate flooring can suffer water damage if it isn't installed correctly and if it isn't well maintained.
Difficult to repair – Entrances are high traffic areas, which means there is an increased likelihood of damage. And when laminate gets damaged, it can be difficult to repair. If the problem is isolated, you may be able to repair individual planks. However, removing individual planks is difficult, and you risk destabilising the integrity of the locking system. Also, depending on the age of the floor, finding laminate floorboards that are an exact match will be difficult. The manufacturing of laminate boards is continuously evolving, and new designs and colours are regularly released. As a result, if you can't isolate the damage or find replacement boards, the only solution is to rip out your laminate floors and install new floors in your entrance.