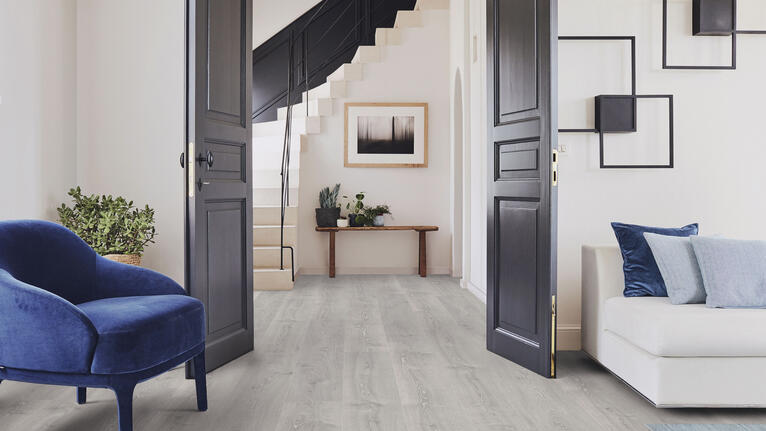 Flooring for entrances and hallways
Nothing makes a better first impression than a beautiful entrance floor. However, with the constant flow of people coming in and out, often with dirty and wet shoes that may carry sand and stones, a hardwearing and durable floor is going to be essential.
When choosing flooring for your entrance, key selection criteria will be flooring that is resistant to moisture and scratches, and that's easy to clean. Your entrance flooring should also be welcoming and beautiful to make that great first impression.
What's the best flooring for entrances and hallways?
The best flooring options for entrances are floors that are both beautiful and durable. They need to be able to withstand moisture and humidity, be resistant to scratches and stains, and be easy to clean.
Many flooring options meet these criteria and are suitable for entrances, including wood, vinyl, laminate, stone and tile. After considering all of the practical characteristics, the next step is to look at the range of design choices offered within each range to find a beautiful floor that fits your style preferences and home decor.
Entry and hallway styles and inspiration
A vast range of flooring options are suitable for entrances so you can have fun exploring different colours, designs, patterns and textures across a range of materials including vinyl, wood and laminate.

At Tarkett, our super low maintenance and affordable vinyl flooring range, available in both luxury vinyl tiles (LVT) and vinyl roll, offers a unique selection of designs, patterns, colours and finishes to help you create an entrance or hallway that meets your desired ambience and aesthetic. In terms of LVT, we offer two main collections: Starfloor Click 55 , available in a range of natural-looking colours and surfaces; and Starfloor Click Ultimate (Rigid LVT), available in a range of elegant wood and stone designs that immediately add warmth and style to any room.
We also offer 15 ICONIK vinyl roll collections, each one offering a variety of beautiful colours, patterns and textures. You can choose from bold and bright colours to classic shades of black, white, grey and beige. Solid colours, light or dark colours, or shades that replicate the beauty of natural materials such as ceramic tile or hardwood floors, are all options.
Our laminate range, available in a huge selection of finishes, effects, and board lengths, is sorted into six collections: Easy Line 832, Essentials 832, Woodstock 832, Lamin'Art 832, Long Boards 1032 and the Welcome 832 collection. Each collection offers different interpretations of realistic wood and stone finishes, ensuring our floors offer the design possibilities that you're looking for.
Vinyl in entrances and hallways
Vinyl is one of the most resilient flooring materials. It's durable, moisture and scratch-resistant, and easy to clean, which makes it a great, low maintenance option for entrances and hallways. And since it's relatively inexpensive compared to a lot of other flooring options, vinyl offers the perfect combination of durability, attractiveness and affordability.
For homeowners wanting a wooden floor for their entrance, but without the practical drawbacks, vinyl is an excellent alternative. Luxury vinyl tiles (LVT), in particular, offer a really low maintenance flooring option that is ideal for even the busiest of entrances. Our Starfloor Click Ultimate range, for example, offers a beautiful range of wood designs that perfectly recreate the look and feel of wood but without any of the drawbacks of wood, such as low water-resistance. Wet umbrellas, muddy shoes, and snow and sleet are not a problem for vinyl floors.
Wood in entrances and hallways
If you have wood flooring throughout your home, it makes sense that you'll want the same flooring for your entrance. While there are a few practical concerns, such as wood's ability to deal with moisture, with a bit of care and ongoing maintenance, wood floors make a beautiful first impression in entrances.
A significant advantage of wood flooring is its natural beauty and its ability to work with any decorating style. Available in a range of designs, colours, patterns and styles, designing a beautiful entrance floor that matches your personal design preference and home decor is effortless. Another significant advantage of wood flooring is that if it does get damaged over time, it can be sanded back and refinished, restoring your floors to their original beauty.
The main drawback of wood is its inability to withstand moisture. Standing puddles of water that seep through the seams can damage your wood floors. To reduce the risk of moisture damage, you could consider engineered wood floors as an alternative to solid wood floors. Also made from wood with a top layer of solid hardwood, engineered wood is designed to be more stable in response to moisture and changes in humidity. They're durable and long-lasting and, like solid wood floors, they can also be sanded back and refinished if needed. This can be done several times, depending on the thickness of the top layer of your floor.
Laminate in entrances and hallways
Similar to luxury vinyl tile, laminate flooring can create the look of wood, stone or tile in your entrance at an affordable price point. It's also relatively low maintenance and easy to clean. Laminate is available in a range of thicknesses with varying degrees of durability. In the case of entrances and hallways, which are high traffic areas, you'll need a thicker, more durable laminate to withstand the additional wear and tear.