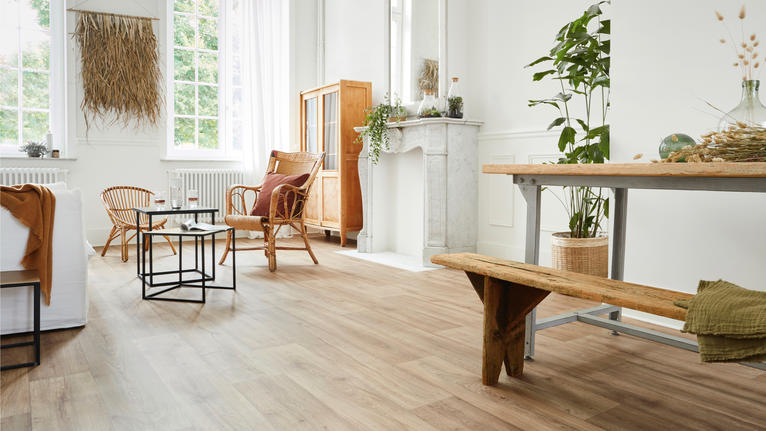 ICONIK Vinyl flooring rolls' main advantages
Vinyl roll floors are both affordably priced and easy to install, even if you've never done it before. These are major benefits if you're looking to decorate or redecorate your home. But that's not all. Tarkett's ICONIK vinyl range offers plenty of other advantages too:
• 100% phthalate-free and low VOC emissions, which means better indoor air quality for you, your family and your guests.
• Easy to clean and maintain, so you spend less time looking after your floors and more time enjoying your home.
• A wide variety of designs ranging from geometric patterns to realistic imitations of natural materials such as wood or stone, which means you have more control over the look and feel of your rooms.
• Incredibly versatile, which means our designers can create collections specifically made to be comfortable underfoot, soundproof, resistant to wear-and-tear, or just straight up affordable, because sometimes, that's what matters most.
Why not look through our catalogue and see if something catches your eye? There are 15 different vinyl flooring rolls' collections to explore all with different looks and features, and of course, all created with design, well-being and sustainability in mind.
A wide range of designs
ICONIK Vinyl Rolls come in an incredible variety of realistic designs and styles for you to choose from: simple smooth monochromes like a grey vinyl flooring, lively geometric or artistic motifs, and patterned vinyl such as simulated tiles, or textured renditions of natural materials such as wood or stone. Whatever the look and feel you're going for, you can be sure there's something for you in the ICONIK collections. Plus we're adding 24 new designs to the range with our latest launch: realistic ceramics, wood, concrete, and more!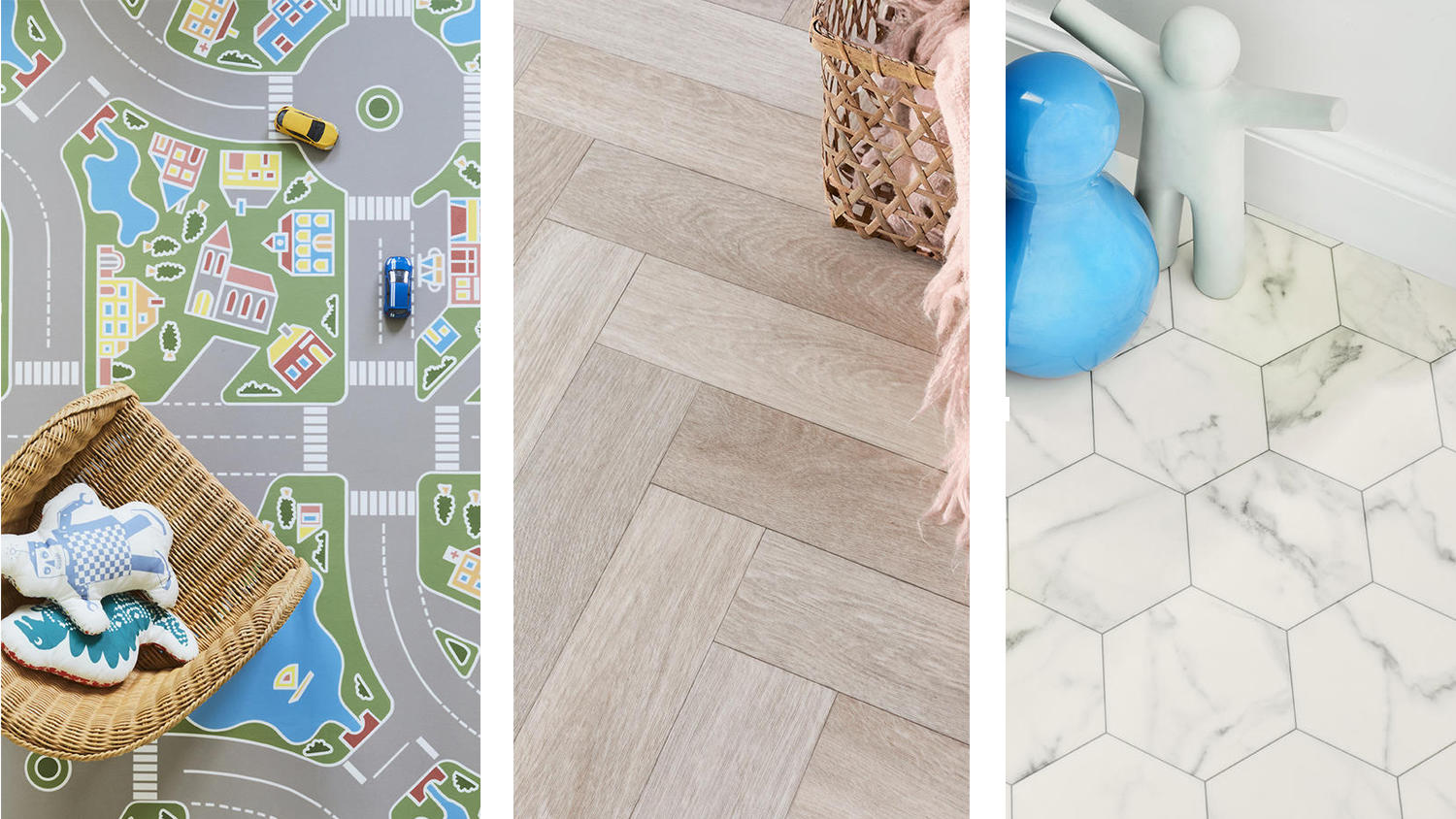 Comfortable, quieter vinyl flooring thanks to textile-backing
Textile backing is one of ICONIK vinyl's comfort-oriented options. Textile-backing gives vinyl flooring a smooth cushioned feel under-foot, and it dampens sounds too, making your home that little bit quieter.
The extra textile layer offers another benefit: because of the extra absorption, it covers irregularities in the surface beneath it, so you won't need to prepare the subfloor before laying textile backed vinyl.

Collections with textile-backing:
- ICONIK 220T
- ICONIK 260T
- ICONIK 280T
- ICONIK 320T
Scratch-resistant and waterproof vinyl floors
Whether you're looking for something for the kitchen, the hallway, or maybe the kids' playroom, you'll probably want something that's tough enough to handle heavy-duty wear and tear.

Tarkett's high-resistance vinyl rolls are designed for exactly that. Their Extreme Protection surface treatment means they can really be put to the test without scuffing or tearing, so your floors look pristine for years!

If you want a floor for your bathroom or kitchen: have a look at the ICONIK 400 and  ICONIK 450 collections.

View high-resistance collections with highest wear layer:

- ICONIK 240
- ICONIK 300+
- ICONIK 320
Cheap vinyl flooring-rolls collections
One of the beauties of vinyl flooring is that it's reasonably priced, which is great if you're renting, or just bought your first home. It's important too if you're planning on renting out, or if you like renovating often. With that in mind, our designers have created a selection of budget-friendly collections that offer you plenty of choice without having to splurge.
View most affordable collections:
- ICONIK 120
- ICONIK 150
- ICONIK 200