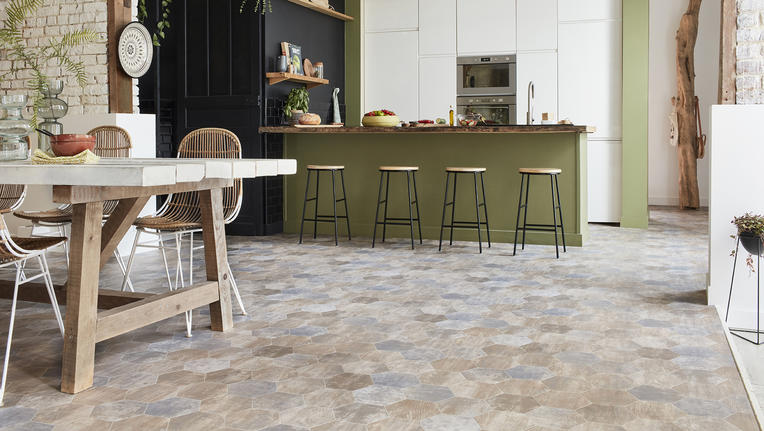 The kitchen is a semi-moist area. And while it doesn't face the same challenges as the bathroom and laundry room, it does endure some tough conditions of its own. Steam, splashes, and spills from cooking and washing up are commonplace. Kitchens are often also the central hub within a home, and depending on the size of your family, they can attract high foot traffic and a significant amount of wear and tear.
Key selection criteria for your kitchen floor is durable flooring that can handle moisture well, is stain and scratch-resistant, and is easy to clean and maintain.

What's the best flooring for kitchens?
The best flooring options for kitchens are floors that can handle moisture well, are easy to clean, and durable enough to withstand high foot traffic.
There are a few types of flooring that meet these criteria. Engineered wood flooring, luxury vinyl tile (LVT), vinyl roll, ceramic or stone tiles, and laminate are all suitable options for kitchen flooring. Each of these flooring options is water-resistant and able to withstand steam and temperature changes in a kitchen. LVT and vinyl roll, in particular, are the stand out choices in terms of their ability to deal with moisture. Depending on the quality of the product, all of these flooring options are also durable enough to withstand high foot traffic and are easy to clean.
Each of these kitchen flooring options has its advantages and disadvantages in terms of durability and price. For instance, vinyl floors are one of the more affordable options because they're fairly easy to install yourself. This isn't the case with tile, for example, which would need professional installation. Each floor also comes in varying designs, styles and colours. Therefore, in addition to considering the practical characteristics, choosing between the different flooring options often comes down to your design and style preferences and your budget.

Browse our editorial pages for help on how to choose the best flooring option to meet your needs.
Worst flooring for kitchens
Flooring to avoid in the kitchen includes carpet and solid wood.
Carpets may be soft and comfortable underfoot, but they're difficult to clean if they get food stains and grease on them, and difficult to dry out if you spill liquids on them. Both of which are likely to happen quite regularly in a kitchen. Also, if your kitchen experiences heavy foot traffic, your carpet floors will wear very quickly.
Wood flooring can be used in a kitchen, but you should use engineered hardwood and not solid hardwood flooring. Solid wood is a natural material that expands and contracts in response to changes in moisture and temperature levels. This can be problematic in a kitchen where steam and moisture are commonplace. Engineered wood is a lot more durable and can withstand changes in temperature, humidity and moisture far better than solid wood flooring.
Kitchen styles and inspiration
Kitchens generally serve several purposes, including cooking, eating, entertaining and socialising, and so your kitchen needs to be both beautiful and functional.
If you're looking to design and install an entire kitchen, you'll be able to customise your kitchen according to the functional needs of your household and your personal design style preferences. If, on the other hand, you're looking to update or refresh the style of your kitchen, there are endless sources of kitchen design and decorating ideas from where to draw inspiration. From countertops to backsplashes and statement lighting, there are many ways to change the style of your kitchen. You can also potentially add to the overall value to your home by doing so.
Browsing our inspiration pages will help you become better acquainted with your general design style preferences and get you started with your kitchen design or make-over project.
Vinyl in the kitchen
Vinyl is a practical and affordable kitchen flooring option and therefore great for homeowners wanting to renovate or update their kitchen on a budget.

Luxury vinyl tile (LVT) and vinyl roll (also known as sheet vinyl), are both suitable for kitchen floors. They're durable, moisture-resistant, and easy to clean and maintain. Kitchen spills and splashes from cooking and washing up are no problem for vinyl's durable and water-resistant surface.

Vinyl flooring is also warm and soft underfoot. Cups and plates experience a softer landing when dropped on vinyl, and for those who spend hours standing and cooking, your feet will welcome a softer, warmer surface. In short, vinyl floors offer the durability of ceramic tile without the same hardness and coldness.
Tarkett's luxury vinyl tile (LVT) range offers vinyl floors that are tough enough for even the busiest of kitchens. Constructed in layers to provide dimensional stability, our flexible and rigid LVT ranges ensure exceptional durability and resistance. We also apply a reinforced polyurethane treatment on all our vinyl flooring ranges, which provides a water-resistant finish and ensures extreme protection against scratches, wear and stains. A high definition decorative layer also means that you can get the look and feel of natural stone, ceramic tile or wood flooring, without the premium flooring price tag.
Tarkett's vinyl roll collections are tough, practical and hygienic. They come in an extraordinary choice of designs, from brilliant colours, abstracts and black and white, to perfect reproductions of natural materials such as wood and stone. They're also available in a variety of finishes to provide touch sensation that match the looks.
Wood in the kitchen
When properly finished and cared for wood flooring makes an excellent choice for the kitchen.
The kitchen is a semi-moist area, and although it's well known that water and wood don't mix well, wood flooring can generally be installed in kitchens without any problems. And while both solid hardwood and engineered wood floors are viable options, engineered wood has a few characteristics that make it a better choice for your kitchen.
Wood is a natural product that expands and contracts as moisture and temperature levels rise and fall. This can be problematic in the kitchen where heat and steam are commonplace. Engineered wood, however, has been designed so that it doesn't expand and contract to the same extent as solid wood flooring. This makes engineered wood better than solid hardwood at dealing with changes in temperature, humidity and moisture, and therefore a better flooring option for kitchens.
At Tarkett, most of our wooden floors are treated with Proteco, one of the strongest surface protections on the market. Proteco makes the floor strong while retaining the genuine wood feel and comes in three varieties, each providing a different finish ranging from semi-gloss to matte. A great advantage of a Tarkett prefinished wooden floor is its thick wear layer, which means it will be highly resistant to wear and tear and easy to maintain in your kitchen. It also means that your floor can be sanded and refinished several times – increasing the lifespan of your kitchen floor.
Read more about protecting and maintaining wood floors in your kitchen.
Laminate in the kitchen
Laminate is a better kitchen flooring choice than solid hardwood, but it's still not a great flooring choice for semi-moist rooms such as the kitchen. Laminate has a water-resistant top layer, but if water manages to seep through the seams and penetrate the base layers, it will harm your floors. And kitchen floors are likely to get wet – whether this is from spilt liquids or the result of a dishwasher leak that remains undiscovered for a few days will
To avoid the risk of water damage, a better flooring option for kitchens is LVT or vinyl roll. And, similar to laminate, both of these vinyl options are available in a range of wood designs.