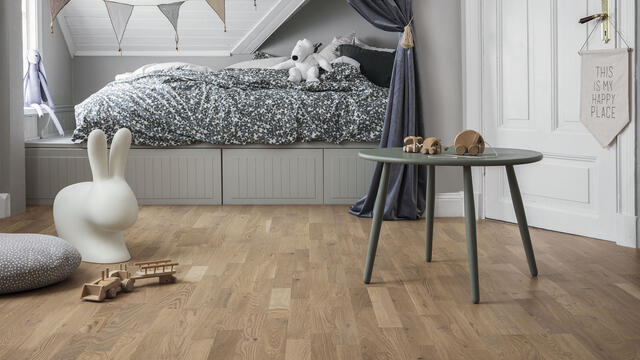 Choosing wood floors for a child's bedroom
Wood is a natural, durable and beautiful material that is perfectly suited to children's bedroom flooring. They're also one of the most eco-friendly and sustainable types of flooring.
Both solid and engineered hardwood floors are good options. However, because of engineered wood's purpose-built construction, it's less likely to shrink and expand than solid wood, making it stronger and more durable. This increased durability gives engineered flooring the edge over solid wood as a better flooring option for children's bedrooms since they'll be able to withstand tougher treatment and high foot traffic.

Wood is also relatively low maintenance. Carpet is often the first thing that parents think of when considering a comfortable floor for a child's bedroom. However, carpets are notoriously hard to keep clean. A significant advantage of wood over carpet is that wood is much easier to clean and maintain. These are important qualities since floors in children's bedroom are likely to experience their fair share of messy accidents.

Also, even though wood floors have a hard surface and aren't as soft as such as vinyl, carpet or cork floors, you can easily fix this by installing a suitable underlayment and adding area rugs. Rugs are easy to remove and clean or replace when needed. Using rugs has the additional benefit of allowing you to easily change the style of your child's bedroom as they grow older. For additional warmth, you can choose wood flooring that is compatible with underfloor heating.

Benefits of wood flooring in children's bedrooms
Pros of using wood flooring in bedrooms
• Attractive and natural
• Comfortable underfoot
• Hygienic

Attractive and natural – Wood flooring is beautiful and stylish and brings natural warmth to a child's bedroom or playroom. It's also a natural material so you won't have to worry about air quality issues.

Comfortable underfoot – While not as warm or soft as carpet, wood is more comfortable underfoot than tile or laminate flooring. This is important if you anticipate that your children will spend many hours playing on the floor. You can create additional warmth and softness by adding area rugs. These also enable you to change the style of your child's bedroom as they grow older and as their style changes.

Hygienic – Wood floors are easy to keep clean and dust-free by sweeping or wiping with a damp cloth. This makes them an ideal flooring choice for children's bedrooms, which are known to get messy. It's also an ideal choice for children who are allergic to dust.
Drawbacks of wood flooring in children's bedrooms
Cons of using wood flooring in bedrooms
• Expensive
• Can be noisy

Expensive – Wood flooring is a relatively expensive flooring material but its long-lasting durability make it a worthwhile investment. Depending on the quality of the wood floor you choose and how well you care for it, wood floors can last for up to 100 years.

Can be noisy – On their own, wood floors don't have great thermal or sound insulation properties. This can be problematic where the day-to-day activities of kids can produce a lot of noise. Installing a good quality wood flooring underlay will help reduce sound and provide added thermal insulation. Tarkofoam II, Tarkoflex II or a technically similar underlay, are good options. If you're installing underfloor heating systems, we recommend using Tarkoflex II.