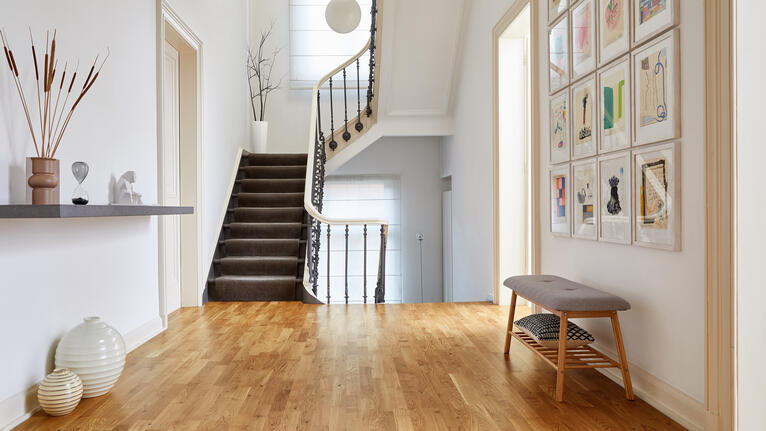 Choosing wood floors for an entrance or hallway
Wood floors in entrances add classic elegance to both traditional and modern settings. If you're installing wood floors throughout your home, then using the same flooring for your entrance creates a sense of continuity and harmony.
And as well as being naturally beautiful, wood can work with any decorating style. You can choose from a wide range of designs, patterns, colours and plank widths to create an entrance floor that best matches your functional and decorating needs.
How you lay your hardwood floors also influences the overall impression of your entrance. The basic rule is to lay floorboards parallel to the longer wall if the room is rectangular and towards the main light source if the room is square. For long entrances and hallways, it's generally recommended to lay the boards along the length of it.
There are, however, a few practical concerns to consider, including wood's low resistance to moisture. Wood will also show up scratches and scuff marks, which are more likely in high traffic areas such as entrances. To keep wood floors in the entrance looking better for longer, you need to ensure they stay clean and dry. A front entry mat will prevent most of the dirt and moisture being tracked into the home. And regular sweeping and vacuuming will prevent the build-up of dirt and debris and remove any small stones that may have been tracked into the home beneath shoes.
With proper care and maintenance, wood floors in the entrance provide a durable, long-lasting and attractive flooring solution.
Benefits of wood flooring in entrances and hallways
Pros of using wood flooring in your entrances and hallways
• Attractive
• Durable
Attractive – Wood floors bring natural warmth and elegance to entrances and hallways. They're also highly versatile and can complement a variety of design styles.
Durable – Despite a lack of water-resistance, wood flooring is durable and long-lasting. Small dents and scratches can add character to your wood floors. However, the surface can be sanded back and refinished once they start to show significant signs of wear and tear. And this can be done several times over their lifespan, depending on the quality and thickness of the floorboards. As a result, hardwood flooring can last between 20-100 years, which is significantly longer than wood-like flooring options such as laminate, which has a life expectancy of between 10-20 years.
Find out more about Tarkett engineered wood collections.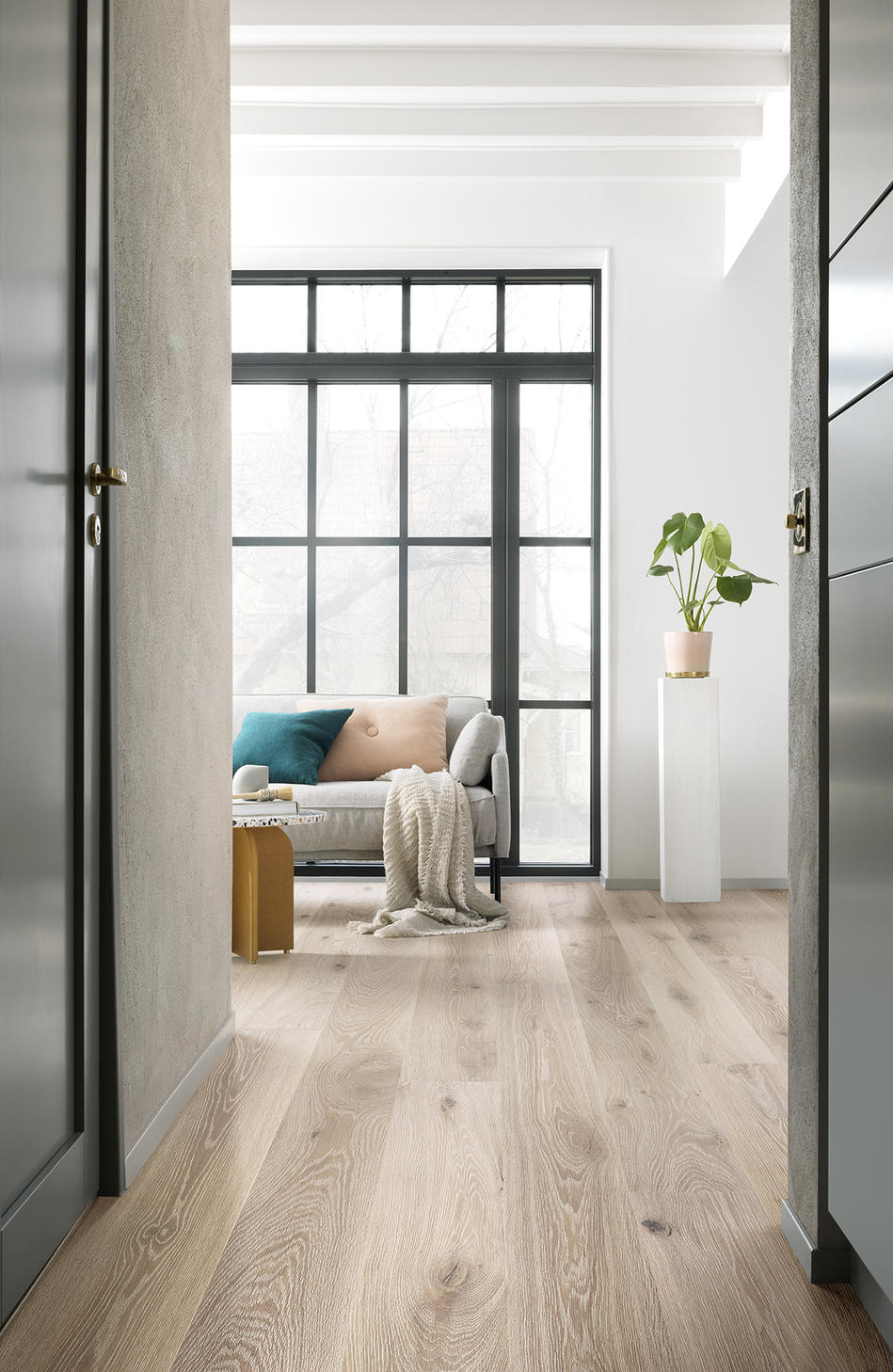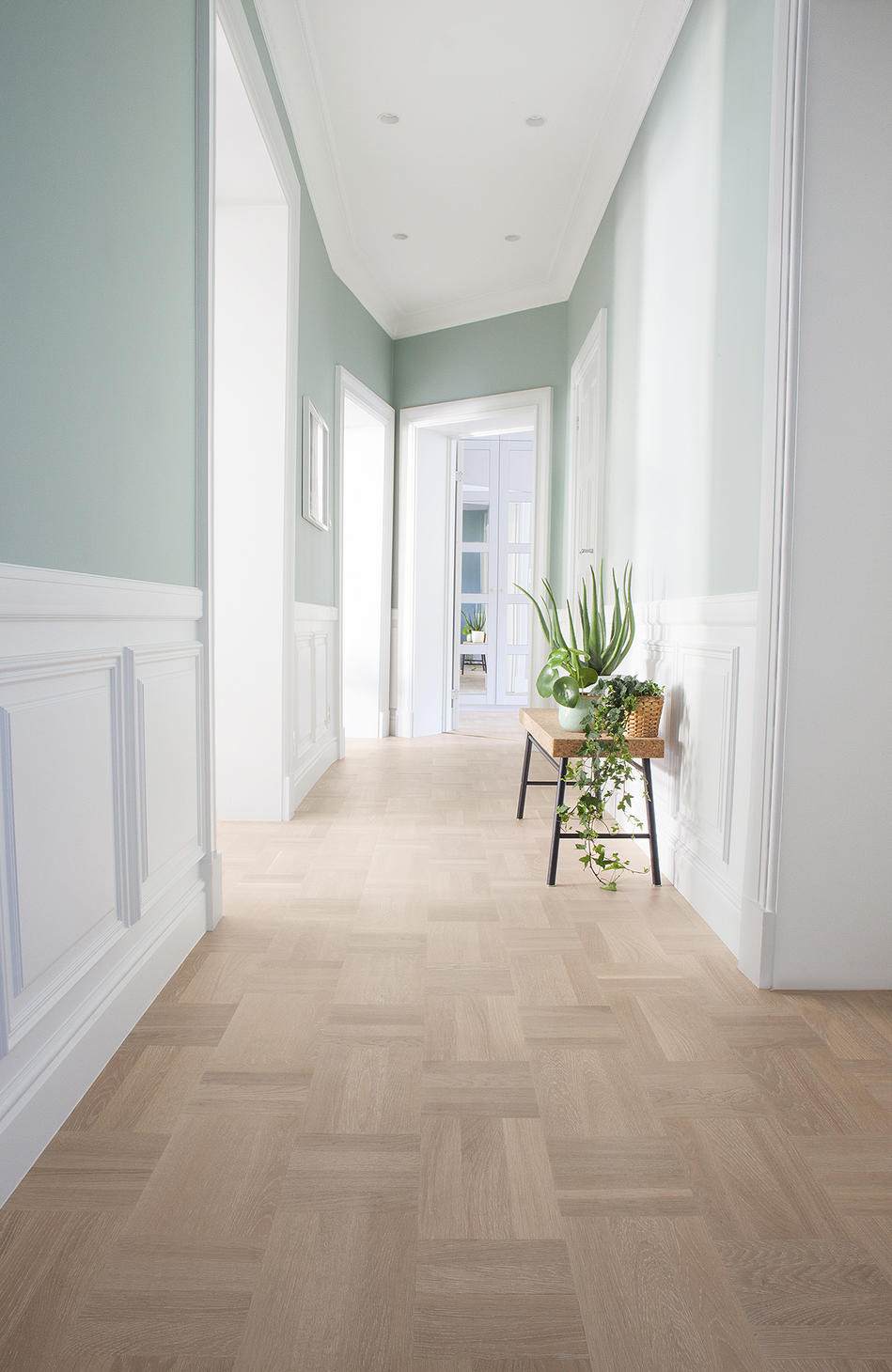 Drawbacks of wood flooring in entrances and hallways
Cons of using wood flooring in your entrances and hallways
• Expensive
• Low moisture-resistance
• Requires ongoing maintenance
Expensive – Wood floors can cost more than other types of flooring and depending on the type of floor you choose, you may need to hire a professional to install it for you, which adds to the expense. If you choose engineered wood floors, these are generally easier to install, and they're often available with DIY installation systems.
Although wood floors are a more expensive investment, they can be more cost-effective in the long run. If they get damaged due to the high wear and tear associated with entrances, you can simply sand them back and refinish them. And you can do this several times over the course of their lifespan. You don't need to go to the expense of replacing the whole floor every 10-20 years.
Low moisture-resistance – A properly finished wood floor has some protection against moisture, but you need to take extra care to ensure that they stay dry. If water does get through your floor's top coating and into the lower layers, your wooden floors will start to rot and eventually need to be replaced.
Requires ongoing maintenance – To keep the wood floors in the entrance looking their best, you'll need to keep the surfaces as dry as possible and ensure water and mud are quickly mopped up. Placing mats inside and outside the entrance door is also a good idea.