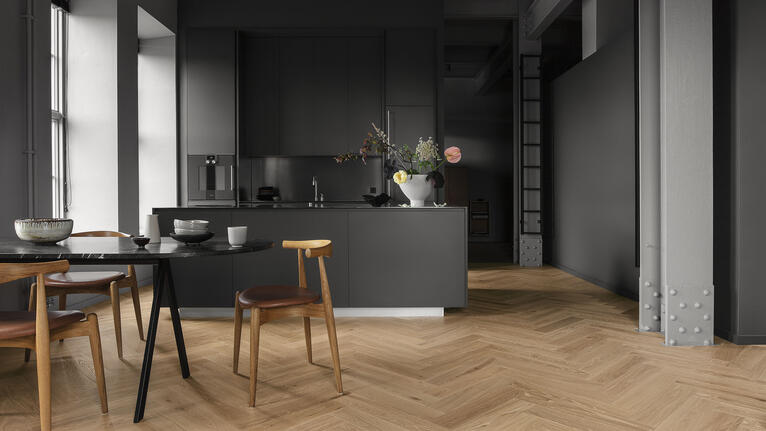 Choosing wood floors for a kitchen
friends and family regularly meet to eat and socialise. They're also considered semi-moist areas due to the presence of steam from cooking and water from washing up. So when considering hardwood flooring for your kitchen, you need to choose wood flooring that can handle moisture well, is stain resistant, and that is easy to maintain.
Engineered wood flooring, made from layers of high-quality compressed materials with a layer of solid hardwood on top, has several characteristics that make it a much better choice than solid wood flooring.
Wood expands and contracts as moisture and temperature levels rise and fall, which can be problematic in the kitchen where heat and steam are commonplace. When the wood contracts, the potential for moisture to seep through the gaps in the planks increases, which increases the risk of water damage. Engineered wood, however, has a dimensionally stable base and has been designed so that it doesn't expand and contract to the same extent as solid wood flooring. This makes engineered wood better at dealing with changes in temperature, humidity and moisture, and therefore a better flooring option for kitchens.
Benefits of wood flooring in kitchens
Pros of using wood flooring in your kitchen
• Timeless look
• Comfortable and warm underfoot
• Durable

Timeless look – Wood flooring brings natural warmth and elegance to any room in the home, including the kitchen. It offers a timeless look that won't date or go out of style. Wood floors are also versatile and can complement a variety of design styles from contemporary to country.
Comfortable and warm underfoot – Wood flooring is warmer and more comfortable than some of the alternative kitchen flooring options such as ceramic tile and stone. This is particularly important if you spend a long time standing on your kitchen floor, preparing meals and washing up.

Durable – Wood flooring is durable and long-lasting. Lacquered floors can be sanded down and refinished if necessary, for example, in the case of dents and scratches, without the expense of replacing the entire floor. And depending on the quality and thickness of the boards, wood floors can last for decades, depending on their quality and how well they're proactively maintained. This is significantly longer than wood-like flooring options such as laminate, which has a life expectancy of between 10-20 years.  
Drawbacks of wood flooring in kitchens
Cons of using wood flooring in your kitchen
• Expensive
• Limited moisture-resistance
• Requires ongoing maintenance
Expensive – Wood is a natural material that is sustainably sourced and produced. This makes wood one of the more expensive types of flooring, but it also makes it one of the more attractive and durable flooring options. And depending on the quality of the wood floor you choose and how well you care for it, wooden floors are a worthwhile investment that will last for decades.
Depending on the type of floor you choose, you may need to hire a professional to install it for you, which will add to the expense. However, most engineered wood floors are easy to install, and they're often available with DIY installation systems. Tarkett wood floors, for example, are equipped with a click installation system, making them easy to install and ready to use.

Limited moisture-resistance – A properly finished wood floor has some protection against moisture. However, if you're laying wood floors in a kitchen, you'll need to take extra care to ensure that your floors stay dry. If water does get through your floor's top coating and into your wooden floors, your wooden floors will start to rot and need to be replaced.
Requires ongoing maintenance – To keep floors looking their best, you'll need to keep the surfaces of your wood floors as dry as possible and ensure spills are quickly mopped up. You should also use a moist, not wet, mop and a gentle detergent when cleaning them. Area rugs near sinks and other kitchen appliances such as stoves are also a good idea.
If you have lacquered floors, we recommend that you maintain them with Tarkett Refresher. The refresher is a water-borne, environmentally friendly care and maintenance product that acts as a re-lacquer for your floor. It cleans and leaves a protective finish at the same time. Lacquered floors can also be sanded back and refinished every 10-20 years to keep them looking their best. To protect your hardwax oiled wood floor and prevent aging, we recommend that you use care and maintenance products from OSMO.