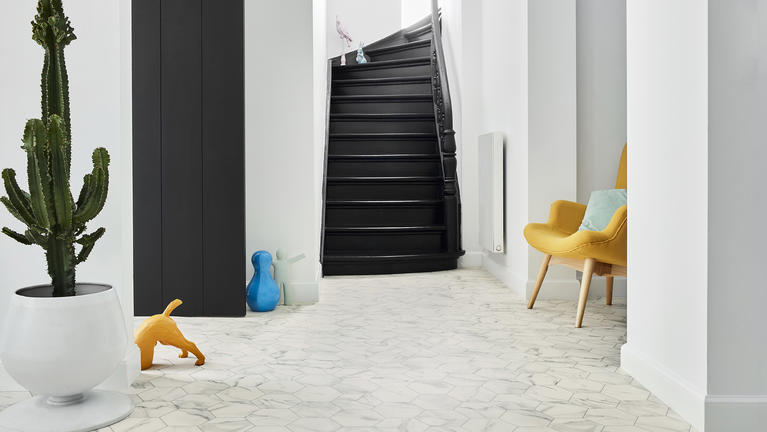 Entrance and hallway styles and trends
Entrances are often neglected when it comes to interior design, but with a little thought and creativity, you can turn this area into both a functional and fashionable space. After all, the entrance provides the first impression of your home and so it's worth spending some time thinking about the details.
Choosing the decor for your entrance depends largely on the overall design style of your home. It also depends on the size of the area and whether you're working with a small or long space or a dark or light space. Whatever space you're working with, you want your entrance to feel connected to the rest of your home. It's therefore important to choose details, decorations and furnishings that enhance this style, ensuring that you create an entrance that is in harmony with the rest of your home.
Visit our editorial pages to view a range of design ideas and trends to inspire you.
Entrance decor ideas
Ideas to make your entrances and hallways more functional
• Storage for coats and shoes – Get organised by introducing built-in or stand-alone cabinets to neatly organise shoes, coats, hats, scarves, handbags, umbrellas and more.
• Add hooks – If you don't have the space to introduce a cabinet, wall hooks are a simple and effective way to hang anything your coats and scarves. You can also choose from a range of designs and materials so that the hooks add both a functional and design element.
• Shelf or table for keys – A stylish console table or shelf provides a dedicated spot for storing keys.
• A place for slipping off shoes – If you have space, a small bench for putting shoes on and off adds both character and practical functionality.
• Add a mirror – A mirror can help to create a sense of space in small entrances, but they're also handy for last minute
Ideas to make your entrances and hallways more welcoming

• Flowers or a plant – Placing a vase with flowers or a small plant near the entryway adds a little greenery and makes a lovely first impression when guests visit.

• Wall art and framed photos – Introducing framed wall art or family photos is a great way to brighten up bare walls and add a personal touch. You could even create a gallery wall with a selection of your favourite photos and artworks.

• Area rug – Incorporating an area rug, or a runner in long entrances adds warmth and a splash of colour.
Inspiring entrance and hallway designs
There are many ways to create an inspiring entrance and hallway design that suits your design style. Neutral or bright colour schemes, striking or subtle lighting, bold or vintage wallpaper, minimalist or maximalist decor and traditional or modern flooring; there are unlimited design options to suit all styles.
Some popular colour trends for entrances and hallways
• Neutral colour scheme – Sticking to a neutral colour scheme helps to lighten a dark hallway by creating the illusion of a bright and airy space.
• Colour blocking – An on-trend paint idea is colour blocking – painting whole walls in bold, bright shades. This works both in small or big spaces and creates unique and welcoming entrances.
• Monochrome colour scheme – A simple black and white design for your entrance is simple and elegant.
Popular design ideas for entrances and hallways
• Vintage-inspired wallpaper – The use of vintage-inspired wallpaper is a popular addition to period design style.
• Light fittings to create ambience – You can achieve different effects by opting for attractive light fittings such as chandeliers, wall lights, pendant lights and lamps.
• Paint the inside of your front door – Painting the entry door is a simple and cheap way to add a splash of colour to your entrance or hallway.