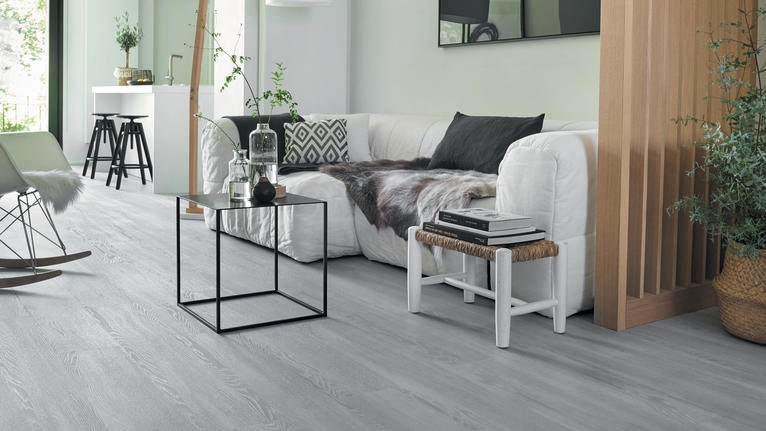 HOW VINYL IMPROVES RENOVATION AND INTERIOR DECORATION!
Tarkett took aside some of its customers and asked them a few questions about their personal experience with Vinyl. The following is a quick Q&A of 4 customers who tell us their story.
Claire, improving her children's bedrooms
Claire, 40, lives in a city flat with her two children, Adèle 10 and Arthur 11 months. She wanted to improve the bedrooms, without changing everything or overstretching her budget and to make her life simpler through easy cleaning.

What was your priority?
I'd had enough of the carpet with its ink marks, bits of stuck play dough, wear marks from all the comings and goings. I vacuumed it, scrubbed it and removed the marks, but the room still looked a bit dirty and neglected. I decided to change the flooring to something that would be easy to live with, especially with a toddler.

What did you choose?
At first, I thought about an easy-to-clean sealed floor like tiles. But when I saw the vinyl flooring, with the range of colours and different effects, I didn't have to think twice – I decided on it straightaway. My problem was more that there was too much choice!

What then?
For my daughter Adèle, it was all about creating an appealing atmosphere for a girl's room in pastel colours with painted wood furniture. So we decided together to try and match the floor with the tones in the curtains... and we found an exact match in a smooth wood look that all her friends immediately wanted to copy! For Arthur, who's 11 months old, I chose some vinyl flooring that was more colourful. It's electric blue and creates a fun atmosphere. With this smooth yet resistant flooring, he'll be able to roll his cars on it, lie across it and knock over whatever he likes. A quick wipe up with a sponge and it will all be forgotten. No more getting stressed about accidents on the carpet! Vinyl is water resistant, resilient and comfortable - ideal when you are first learning to walk!

And would you do it again?
Absolutely. Vinyl flooring can be easily changed. You can swap it whenever you want without it costing a fortune – to adapt designs as the kids grow or accommodate your teenager wanting to redecorate the room
Camilla, freshening her shared flat
Camilla, 25, now working in her first job, is sharing a three-bedroom city apartment with two other girls. It's is a bit antiquated, but doing any major work is out of the question. A bit of freshening up will make it a bit more welcoming. What did you tackle first? The kitchen was horrible - dirty walls, old-fashioned cupboards, really old, worn, stained tiles and crumbling joints. It was impossible to invite friends over. They'd think they were at their grandma's! When you share an apartment, the kitchen should be cosy – like a real living room where you can be yourself. Why did you choose vinyl flooring? We didn't have a lot of money and we needed a flooring that was easy to fit plus stain resistant. We're no good at DIY, and using vinyl means you don't have to lift the tiles! We filled some of the joints and put down an unusual, flashy pink vinyl from a roll. Just like magic, the kitchen looked completely different. It brightened up immediately. We just added some stylish stools, a few coloured kitchen accessories, and stuck some stickers on the doors to cheer it all up. How did it turn out? Like day and night! The kitchen is our showcase – a funky room, a great place to chat. It gives the impression of being a stylish, fun apartment that all our friends want to squat in
Pierre and Mary, making their country house comfortable
Pierre and Marie, are happy grandparents with eight grandchildren. But when the tribe arrives every summer at their country house, life gets very busy! And trying to keep the old tiled floor clean had become a nightmare…

What made you want to change?
We had to change our old house to suit the new generation. We wanted to make it easier to look after, especially during the summer when there are lots of us and the house is full of people coming in and out all day. Wet feet, glasses knocked over, broken plates: the old tiled floor had seen it all and urgently needed to be replaced. But from there to putting vinyl flooring down in our house...

So what made you choose this flooring in the end?
Our children encouraged us to consider vinyl. I admit we weren't very keen, as we were thinking about the old 'plastic' floors our grandmothers had. When we saw and touched the vinyl, however, we were amazed by how it looked, the variety and the quality of the product. We opted for a veined, oak look, which is such a good imitation of a wood floor that you'd never know. In two days, it had been laid. And what a saving!

Has your new vinyl floor met your expectations?
As for cleaning, it's a real pleasure. Style-wise the new flooring goes really well with our rustic furniture. The light oak colour we chose has even brightened it up and shown it off! And as for charm, the change has made no difference: with the new vinyl floor our home has kept all its style.