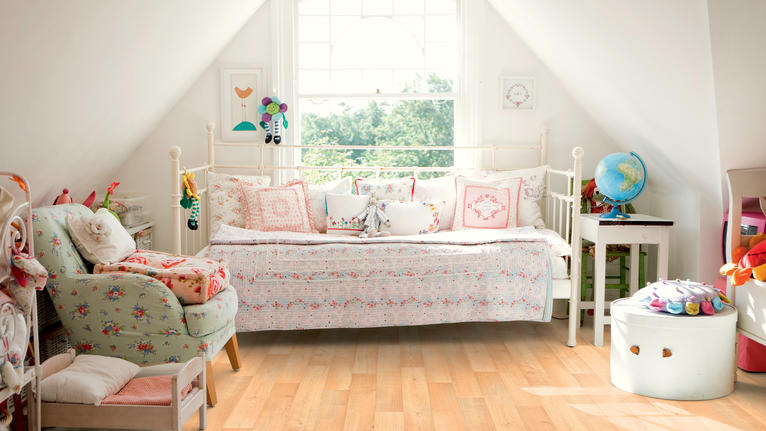 TARKETT NEW GENERATION VINYL FLOORING BENEFITS
Most of us make purchasing decision based on factors like time, convenience and comfort. When selecting a vinyl flooring, you need to consider all the advantages to ensure that your choice brings a little added-value to your lifestyle.
Unlimited choice of designs
When it comes to interior design, everyone has his or her own style. Vinyl flooring brings an unlimited choice of designs – from classic to contemporary with a world of colours, patterns and textures in between. With wood, stone or vibrant effects in metallic or graphic designs, there is a Tarkett vinyl flooring to suit your taste.
A solution for every room
Nothing's more demanding than the hive of activities in each room of your home. Vinyl flooring offers a solution for everything – water-resistant in bathrooms, hard-wearing for hallways, practical in kitchens. As your needs evolve, and your kids grow older, vinyl flooring can provide for every next step in your family life.
All round comfort
If the first thing you do when you get home is kick off your shoes, you'll appreciate the underfoot comfort of a vinyl floor. Tarkett also makes its flooring to provide good thermal and acoustic insulation - good news for the ears if you have kids playing on the floor above!
Easy living
Everyone likes a clean and tidy home, but without hours of housework. Tarkett vinyl flooring couldn't be simpler to maintain, with a simple mop and vaccum routine. As it's hard-wearing, stain-resistant, and easy to clean, vinyl flooring keeps your home fresh and looking good
 
DIY made simple
No need to call in the professionals. Laying a vinyl floor is very easy with three simple methods depending on the size of your space. Tarkett has all the advice and accessories to help you achieve a perfect job. An ideal flooring for those who regularly want to relook their home!
A healthy home
People are looking more carefully at the quality of materials to create healthy living spaces and ensure well-being at home. Tarkett's vinyl flooring is made to bring real benefits. It's eco-designed to have low emissions, contributing to improved air quality. And now Tarkett is removing phthalates from its flooring to also contribute to improved indoor environments.