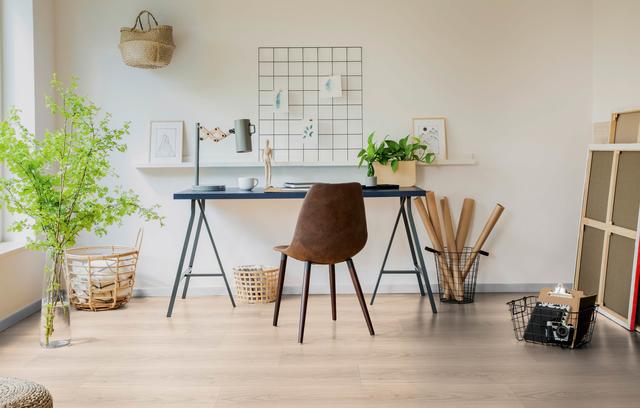 Choosing vinyl floors for a home office
Choosing vinyl floors for a home office
Vinyl floors (both luxury vinyl tile and vinyl roll ) offer a durable and low maintenance option for home offices, being tough enough to withstand heavy foot traffic and the sliding of swivel office chairs. The protective top layer of vinyl also provides scratch, stain and water-resistance, which will keep your home office floors looking better for longer.
Depending on the number of clients you have or phone calls you make, another advantage of vinyl floors is its sound insulation properties, which will help to reduce noise while also providing comfort. Vinyl also has excellent thermal properties, which means you that you can work on warm floors all year round.
Available in a wide variety of styles, patterns, colours and designs, you'll be able to explore a wide range of home office flooring ideas to find a design that meets your style preferences.
Benefits of vinyl flooring in home offices
Pros of using vinyl flooring in home offices
• Comfortable and warm underfoot
• Easy to clean
• Easy to install
• Affordable
• Available in many designs and colours
Comfortable and warm underfoot – Vinyl's thermal properties provide a warm feeling underfoot. And depending on the vinyl product and its backing, vinyl can also feel cushioned underfoot, adding another level of comfort to your home office.
Easy to clean – Spilt coffee on your office floor needn't be a problem. Vacuuming, sweeping or wiping with a damp mop moistened with warm water and a neutral detergent is all that's needed to keep your home office space looking great.
Easy to install – Installation methods vary depending on the vinyl floor that you choose, but regardless of the product, vinyl is one of the easiest floors to install yourself without the need for a professional.
Affordable – Vinyl is a relatively inexpensive home office flooring solution, especially when compared to alternative home office flooring options such as solid and engineered hardwood flooring.
Available in many designs and colours – Vinyl has enormous design potential, providing you with the freedom and flexibility to create home office flooring perfectly matched to your design style preferences.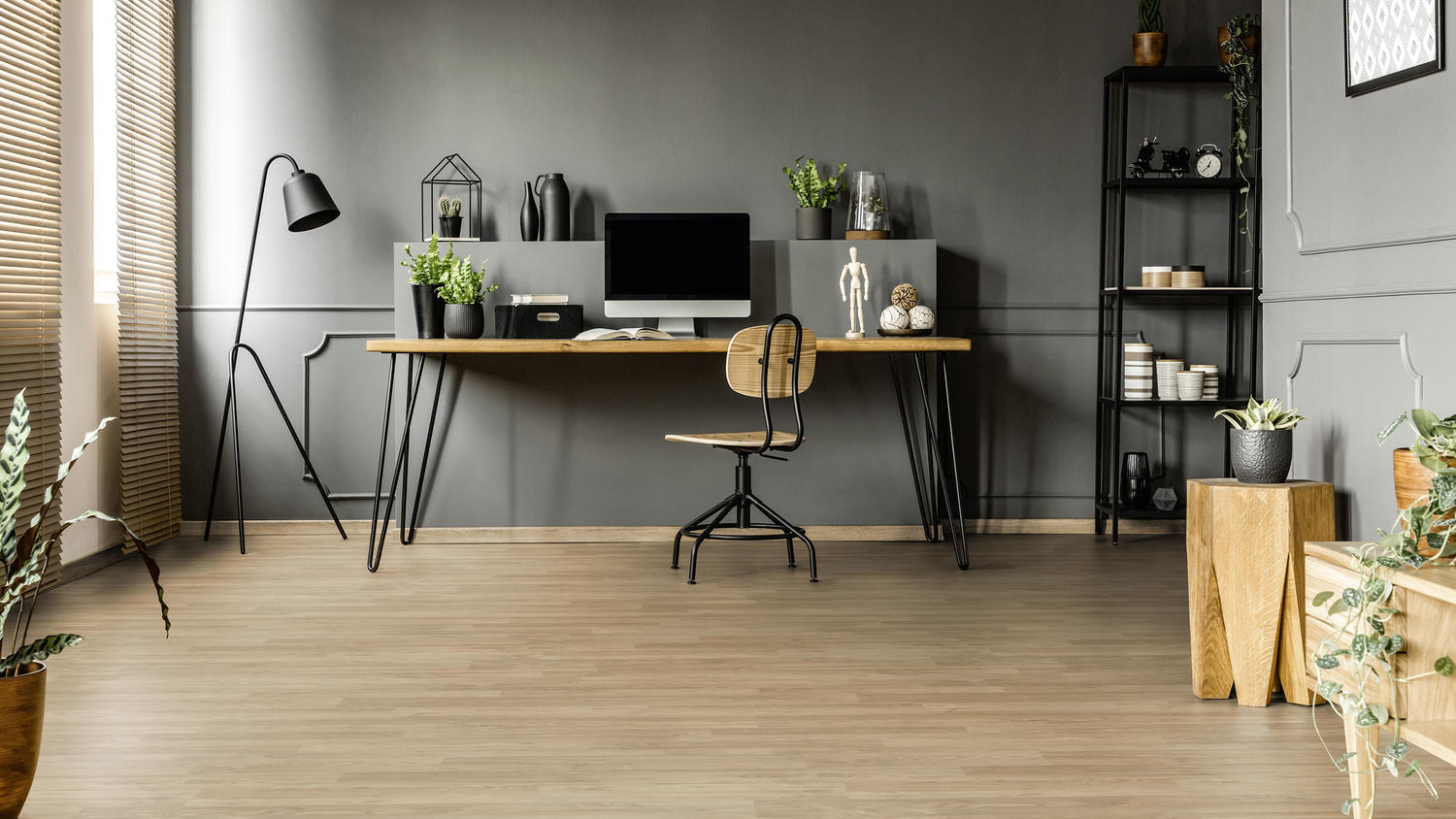 Drawbacks of vinyl flooring in home offices
Cons of using vinyl flooring in home offices
• Difficult to repair
Vinyl is a highly durable flooring material, but it can still get damaged. For example, regularly sliding across the floor in a swivel chair could result in deep scratches or tears. And if this does happen, it can be tough to make spot repairs or replace individual planks, and in most cases, the entire home office floor would need to be ripped out and replaced.
To reduce the risk of damage, we recommend our luxury vinyl tile Starfloor Click 55 and Starfloor Click Ultimate 55 collections for home office flooring. They are extremely durable and easy to maintain so you can enjoy stylish home office floors for even longer. Our Starfloor Click 55 collections come with a 20-year warranty for residential use.