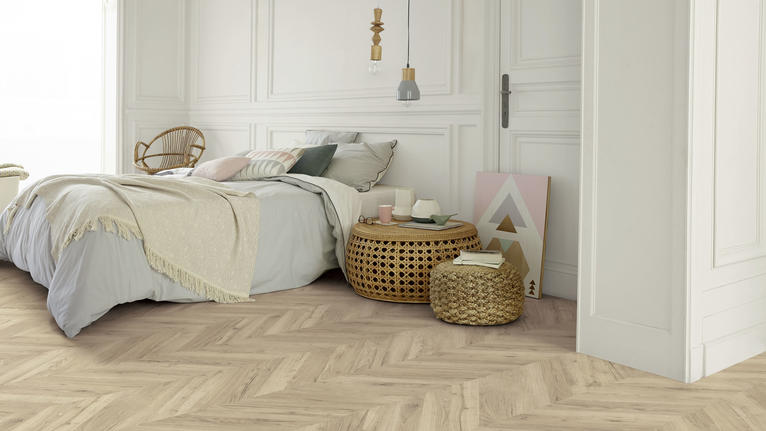 Choosing laminate floors for a bedroom
Laminate is a synthetic flooring material made from several layers of compressed materials including a core layer of high-density wood fibreboard strengthened with resin. On top of this sits a decorative design layer with a printed image, which is then topped with a transparent overlay.
Laminate has been around for a while now offering an affordable alternative to the more expensive and higher-end hardwood flooring options such as engineered hardwood. And because of the range of designs, colours and style options available, including different surface finishes, laminate floors can today look almost identical to the material they're imitating, such as wood, tile and stone.

And although bedrooms are considered a low-traffic room, a durable flooring material will withstand heavy bedroom furniture and provide resistance against abrasion and scratches. Thanks to a tough top layer, which offers scratch, stain and water resistance, laminate offers good durability.

So, for consumers looking for a durable, wood-like finish for their bedroom floor but who find the pricing of hardwood out of reach, laminate offers an attractive and affordable alternative.
Benefits of laminate flooring in bedrooms
Pros of using laminate flooring in bedrooms

• Easy to install
• Affordable
• Available in many designs

Easy to install – Laminate floors are also commonly referred to as 'floating floors' because they can be installed directly over your existing subfloor. Laminate uses a type of tongue-and-groove installation system, which makes it one of the easiest floors to install yourself. Although more technical than vinyl flooring to install, skilled DIY homeowners can usually install laminate floors themselves. Our laminate floors come with 2 easy-to-use profiles that allow glueless installation: ANGLE LOCK or UNIFIT®.

Affordable – Laminate is relatively inexpensive, especially when compared to alternative bedroom flooring options such as solid and engineered wood. This makes it an attractive option for homeowners looking to install bedroom flooring on a budget.
Available in many designs – Laminate, like luxury vinyl tile and vinyl roll, comes in a range of styles and designs, including designs which mimic natural materials such as wood, ceramic tile and natural stone. You can also find a wide range of laminate flooring accessories.
Drawbacks of laminate flooring in bedrooms
Cons of using laminate flooring in bedrooms
• Hard underfoot
• No sound insulation properties
• Difficult to repair

Hard underfoot – Laminate flooring is known to be relatively hard underfoot, even with a foam underlayment. This may not be the best choice in bedrooms where comfort is paramount.

No sound insulation properties – Laminate floors don't offer sound protection in the same way that carpet does. And the hard surfaces tend to be noisy underfoot. If you install a good quality underlayment, this will help to absorb the sound and provide a degree of thermal insulation.

Difficult to repair - Unlike hardwood, which can be sanded back and refinished several times throughout its lifespan, laminate flooring cannot be refinished. So if the floor becomes damaged or worn, the damaged planks need to be removed and replaced. However, it is often difficult to remove individual planks, and in most cases, the entire floor needs to be removed and replaced.