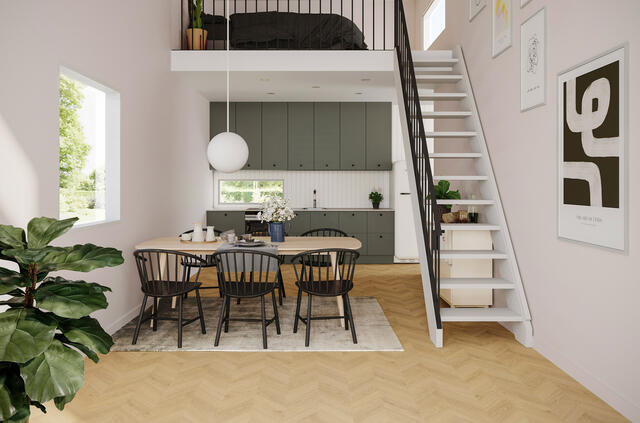 Choosing Laminate floors for a kitchen
Vinyl flooring, including luxury vinyl tiles (also known as luxury vinyl plank) and vinyl roll, as well as porcelain or ceramic tile are generally considered to be the best flooring options for a kitchen because of their ability to stand up to moisture and humidity.
Laminate flooring can be installed in the kitchen. However, due to the constant presence of moisture, you'll need to apply special care and maintenance. Firstly, you'll need to choose a Laminate floor that is highly water-resistant, and you'll need to ensure that seams are very tight between the planks when installing the floor. This ensures that there are no gaps and prevent moisture penetrating the core of the Laminate, which contains wood composite materials.
The joints in between the planks can also be sealed with silicon sealer to make your Laminate floors more water-resistant. Even good quality, water-resistant Laminate flooring can suffer water damage if it isn't installed correctly and if it isn't well maintained.
Benefits of Laminate flooring in kitchens
Pros of using laminate flooring in your kitchen
• Affordable
• Durable
• Easy to clean and maintain
• Easy to install
Affordable – Laminate flooring s relatively inexpensive when compared to hardwood flooring. And thanks to the printed design layer, you can get the look of natural wood without the higher price tag.
Durable – Laminate has a treated, extra-strong top layer of Laminate, which makes it highly scratch and stain-resistant. This durability makes it a good choice for areas with high foot traffic. The top layer also provides water-resistance, which is an essential requirement for your kitchen flooring. At Tarkett we provide up to 25-year warranty.

Easy to clean and maintain – The hard sealed surface with a stain-resistant overlay makes our Laminate floorings very easy to clean. Kitchen spills and food stains are easily cleaned up with a damp mop with warm water and a mild cleaner.The tight locking systems prevents dust and dirt from collecting between the boards. The dirt-repellent melamine resin surface is an excellent barrier against the growth or spread of germs, contributing to a healthier home environment in every living space.
Easy to install - At Tarkett, our Laminate floors come with a new profile that makes them fast and easy to install. This new locking system allows a smooth and flexible installation and offers the possibility to choose the way that suits you the best: plank-by-plank, row-by-row, tapping.
Drawbacks of Laminate flooring in kitchens
Cons of using Laminate flooring in your kitchen
• Susceptible to water damage
• Difficult to repair

Susceptible to water damage – You'll need to take extra precautions in a kitchen to prevent water or seeping through the seams to the core layer, which is composed of a composite wood material. If water does seep through the seams into the lower layers, your Laminate floors will potentially buckle, causing permanent and irreversible damage.

Difficult to repair – If your Laminate floor suffers water-damage, due to water seeping through the top layer or seams down to the layer of wood chip, it can be challenging to repair. If the problem is isolated, you may be able to repair individual planks. However, depending on the age of the floor, finding Laminate boards that are an exact match will be difficult. The manufacturing of Laminate boards continues to evolve, and new designs and colours are regularly being released. If you can't isolate the damage, or find replacement boards, the only solution is to rip out your Laminate floors and replace them.